So many happenings a-happening around IMBC extended weekend Thursday 6th – Sunday 9th October. Here's the events that we've got a hand in/give a thumbs up too…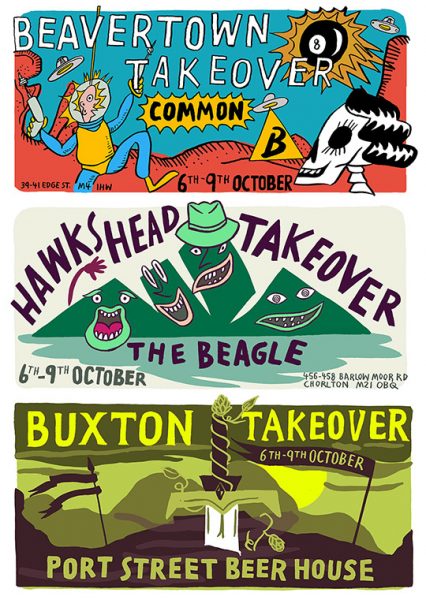 BEAVERTOWN TAKEOVER COMMON
Thursday 6th October – Sunday 9th October 2016
Beavertown commandeer the taps, hearts, minds, and ass of our dearest Common. Expect Beavertown galore, a pop-up exhibition by Beavertown illustrator Nick Dwyer, Beavertown cocktails, and Beavertown brunch specials.
Opening hours: Thursday 11am-late / Friday 11am-2am / Saturday 10am-2am / Sunday 10am-late. Brunch is served from 11am weekdays / 10am weekends until 3pm. Food is served until 9.30pm. 
BUXTON TAKEOVER PORT STREET
Thursday 6th October – Sunday 9th October 2016
Buxton, oh Buxton. Buxton come to Port Street. Fawn over their brilliant beers with a smattering of rare as hen's teeth BUXTON CASK (you don't find it anywhere outside of the Buxton tap these days) plus keg-o-rama galore. Rumours of soft serve Omnipollo beer collabs abound PLUS Yellow Belly Sundae cask…ummmmmmmm, YAH.
Port Street Buxton Tap is open until 1am Friday / 2am Saturday / Midnight Sunday. 
HAWKSHEAD TAKEOVER THE BEAGLE
Thursday 6th October – Sunday 9th October 2016
Those lords of the lakes, Hawkshead, make their way to The Beagle in darling Chorlton with their emphatic haul of SEMINAL cask and OUTSTANDING keg. Check it the hell out. The Beagle is firing out "Beer Food" specials during IMBC, food with beer in? SOLD!
The Beagle is serving up brunch for all your IMBC needs 10am-2pm Saturday and Sunday / Food service runs until 10pm every day / Hawkshead rule / The Beagle is open until 1am Friday and Saturday night. 
LOST AND GROUNDED AT THE PILCROW
Friday 7th October 2016
Meet the UK's newest brewery when Bristol's Lost and Grounded come to Manchester's newest pub, The Pilcrow. Drink Lost and Grounded's beers and meet your new buds behind the suds.
KERNEL AT BREWDOG MANCHESTER
Thursday 6th October – Sunday 9th October 2016
Those fresh to death EXPERTS, Kernel from London town, make themselves at home at Brewdog Manchester while they're up visiting for IMBC. Don't miss this tap takeover.