IMBC 17 FRINGE
Thursday 28th September – Sunday 1st October 2017
At IMBC time each year we like to lay on a few outer Victoria Baths experiences to get you in the beery mood. This year we are exciting to announce that we have the following events happening at our bars. As ever we wanna throw the net wider and get some great beer happenings going on city-wide that you can enjoy before and after IMBC – if you're a pub / bottle shop / other and you want us to include your event in our programming, get in touch!
Meanwhile, here's what we've got going on so far…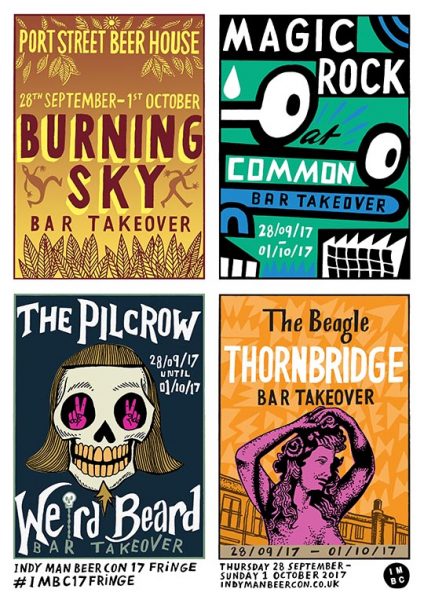 BURNING SKY TAKEOVER PORT STREET BEER HOUSE
Rarities, classics and new classics wall to wall across cask and keg from master brewers and blenders, Burning Sky.
MAGIC ROCK TAKEOVER COMMON
Huddersfield honchos Magic Rock bring a bag of tricks to Common for back to back Magic cask and keg. Expect tastings, new releases, rare batches, artwork, food specials and the unexpected.
WEIRD BEARD TAKEOVER THE PILCROW
Weird Beard bring the immaculate haul to The Pilcrow for a four day showcase of all things Weird. Newbies, golden oldies, pop-up tastings, specials galore.
THORNBRIDGE TAKEOVER THE BEAGLE
Bakewell's always excellent Thornbridge make tracks to The Beagle in Chorlton for the long weekend to provide the ultimate offering of essential cask and keg. All the stone cold classics will be there alongside rarities, Thornbridge food specials, pop-ups and much more.
Artwork by David Bailey
Got your ticket to the big dog yet? IMBC 17 wants YOU (to attend). Thursday 28th September and Sunday 1st October are the only dates that remain. Pick up your tickets HERE!