THE THIRSTY GAMES 2017

We are seeking the best new progressive UK breweries to enter our 2017 competition, The Thirsty Games.
In 2016 we launched the inaugural Thirsty Games. Fiveclouds (Macclesfield) took home the trophy following a public vote on the best Thirsty Games brewery pouring at the festival from three finalists. Wilde Child (Leeds) and Maregade (London) completed the 2016 line-up.
Following an open call we, the IMBC jury, will decide upon the best three breweries from the 2017 submissions. The three chosen breweries will then be invited to pour a selection of their beers at IMBC 17 across all sessions (28th September – 1st October 2017). At IMBC 17, attendees will be invited to sample the Thirsty Games bar and vote on their favourite brewery via ballot and on social media. We shall also anoint selected brewers in attendance at the festival to have their say on The Thirsty Games talent.
The Thirsty Games acts as a showcase for the best up and coming forward-thinking UK breweries working out of a small facility, or who are operating on a cuckoo brewery basis.
The criteria for entering The Thirsty Games is as follows…
• Brewers must be operating on a 5BBL or less capacity
• Breweries must have been in operation for no longer than 18 months
• UK based
If the above applies then please fill in the entry form below. Should your entry be successful we will be in touch and you will be asked to submit samples of your beers. Samples should be a good indication of what you would hope to present at IMBC, we are looking for your best examples.
Initial beer submissions must be received by Friday 30th June 2017. From the beers submitted, the IMBC team will pick their favourite breweries and purchase 1-3 kegs from each qualifying brewery to pour on The Thirsty Games 2017 bar. The finalists of The Thirsty Games 2017 will be announced on Monday 24th July 2017.
If you would like to submit additional information or branding, please contact [email protected]
The victors of The Thirsty Games 2017 will be the first brewery to be invited to showcase their beers across all sessions at IMBC 18.
The Thirsty Games is kindly supported by Lallemand.
Good luck!
#ThirstyGames17
—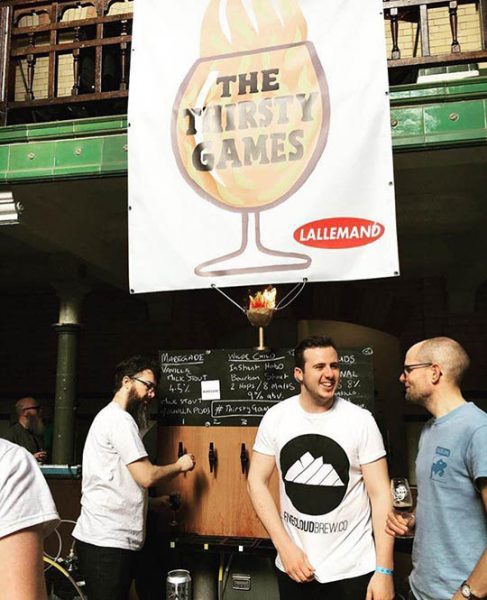 Fiveclouds had this to say on their winning turn on The Thirsty Games bar at IMBC 16,
"To be pouring at IMBC in our first year of trading was a massive deal to us, slightly surreal after going for the past few years as drinkers and we were totally surprised at the amount of interest and feedback from other brewers and the public alike. It opened a huge amount of doors for us as a brewery and gave us some much needed confidence. When we tweeted the results of the competition our tweet had got over 6000 interactions that night. We had about 30 bars from around the country asking for beer over twitter, etc. It was pretty crazy!"
Read a full Q&A with Fiveclouds HERE.