We recently caught up with Dave Stone of Wylam ahead of their steering the good ship Room 3 at IMBC 18 as official room sponsor. Wylam have been all guns blazing for quite the while and big players on the IMBC scene for years now. This year will see them toting more beers than ever at the festival and you will find Wylam pouring beers at ALL sessions in the pool in Room 3. Here's what Dave has to say about it…
Ahoy Dave. We are excited to welcome Wylam to IMBC 18 as the sponsors of Room 3 AKA the party room. Can you let us in on any plans for the space?
Well we like to party… everybody does ;) So we are looking to make sure that the party room is well served with new brews and classics a bit like a liquid 6music I suppose.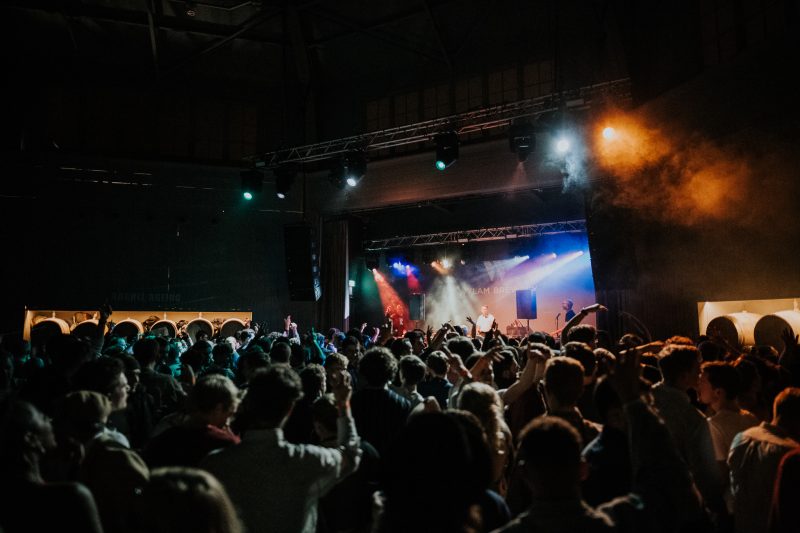 Wylam are no strangers to beer festivals – either attending or putting on your own great spread in the shape of Craft Beer Calling. What makes a good beer festival?
A beer festival is made by the people who buy tickets and attend the festival. Without them it's just a room full of foisty beer nerds comparing yeast strains. The reason we dived in to take over the pool this year is that we love the crowd at IMBC and we wanted to be able to pour as many great beers as possible for them.

The Palace of Arts! What a place! Can you tell us a little about the history of the building, how you came to inhabit it and what you guys offer there to visitors? 
The Palace was built in 1928 as part of the Great Exhibition of the North which was a World Trade fair designed to stimulate trade during the depression. It lay barren for many years prior to us taking it over and transforming it. We often wonder what the folk who attended the original exhibition would think if they saw how the building has been repurposed. It's an incredible Grade II listed building in a beautiful park in the City Centre and we are honoured to be custodians of this amazing space.
By The River! We've heard rave reports but have yet to dip our beak. What's going on over there? Sounds wild! 
By The River Brew Co is a project that has been developed by two of our Directors. It's a separate entity to Wylam. It is indeed wild with a 15 barrel brewhouse, tap room, open flame restaurant, custom build bike shop which serves coffee and brunch plus an amazing street food market that opens at weekends. The idea is to brew beers mainly for site so we can ensure they are served fresh and in their best condition. You can find out more
HERE
.
Wylam have been producing some fantastic beers recently and have been at the forefront of the UK's quality pale output. What beers are you particularly proud of from the past 12 months? 
To be honest there isn't one particular beer or beers we would say we are prouder of than others. It took us a little time to dial the new kit however once we did we were super proud of all our output.

Collaborations – you have been very busy lately. Your Northern Powerhouse series went down a storm – are there plans for this to become a regular thing? What are some of the biggest positives of collaborating with peers?
The Northern Powerhouse series was a really exciting project to lead out on. It was such a pleasure to bring some of the finest brewers in the region to our home and collaborate with them in this celebration of all thing 'northern'. Whether it will happen again is still to be decided. The biggest positives from collabs are knowledge sharing, breaking bread together and of course going on the lash after the brew.

Can you tease us with any special beers you've got up your sleeve for IMBC 18? 
We would love to… but we haven't designed some of them yet :) There will be a good mix of exclusives, classics and collabs. along with some stuff we keep locked away in Ben our Head Brewers dungeon. If he asks you to go down there by the way just say no ;)

What's next for Wylam?
What's next is what is past and present. Continue to make beers the best we can and to get them out to inquisitive pallets. It's the best time in history for beer… so let's party.
Lastly, any advice to visitors to the festival on where to head in Manchester before/after their session? 
To be honest when we attend IMBC we tend to stay within the festival but there is an abundance of great beer bars in the city so free your mind and your ass will follow.
—
Cheers Dave!
Follow Wylam online wherever you can. They have a website! They have a twitter! They have an instagram! Go visit Wylam in Newcastle and come drink their beer in October in Victoria Baths!
—
IMBC 18 / 4th-7th October 2018. Victoria Baths, Manchester
Tickets for Thursday 4th, Friday 5th day session, and Sunday 7th October are available HERE.