We are none more excited to welcome back Magic Rock to IMBC as the glass sponsor of this year's festival alongside Beer Merchants. Find Magic Rock pouring at EVERY session of IMBC 18. We spoke to Marisa and Duncan from Magic Rock to see what's happening…
Hello Marisa and Duncan! We are excited to have Magic Rock as the glass sponsors at IMBC 18 this year alongside Beer Merchants. Your designer Rich Norgate has collaborated on the glass artwork with the person behind our IMBC branding, Steve Hockett. Your glassware is always on point – how important is the right vessel?
Marisa: Well, thank you very much, our designer Rich Norgate does a great job. We are always really happy when we get good feedback from the beer community. Great glassware always improves the drinking experience
Duncan: The right vessel is important for the correct 'mouth movement', I've always believed beer tastes different with different mouth shapes, I'm all about the stout pout at the current moment.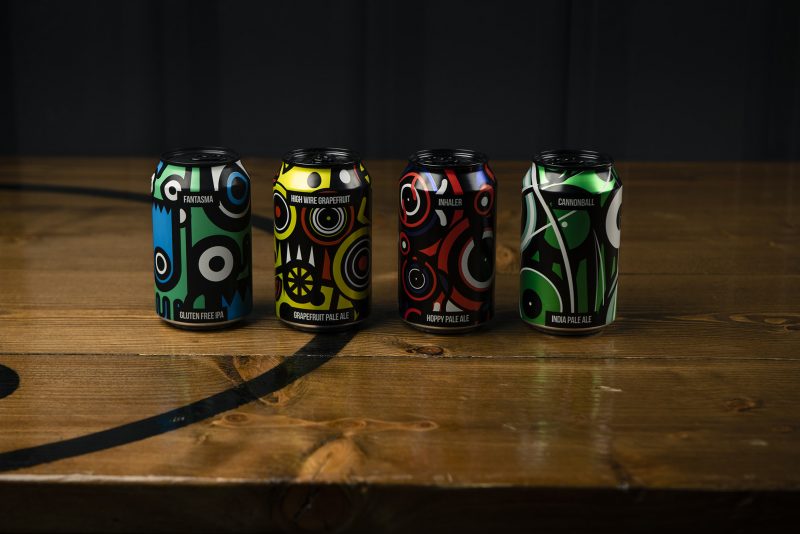 Magic Rock are back at IMBC for all sessions this year after occupying our bar Common for the IMBC Fringe last year. What can punters expect from the return of Magic Rock at Victoria Baths this time around? Any exciting plans you can talk about?
Marisa: All I'll say is that we missed it so much that you won't be disappointed for what we have instore this year.
Duncan: Its been a bit like Glastonbury, we let the cattle have a rest last year, so the pastures are now greener and we have fuller bellies ready to be milked.
Sesh Fest! What a premise. A great time was had by all. Do you have plans to repeat the festival and what else is going on down at the Tap these days?
Marisa: We definitely plan on SeshFest making an appearance in 2019.
Ah, there is always something going down at the Tap. Particularly over the next few months, a lot of exciting things are happening; the Rainbow Project Launch in our taproom, gigs by local musicians and tap takeovers. Verdant just took over our taps and it was a great night! We also just had our annual Food and Drink Festival and it was a great time.
Duncan: we are planning to double the Sesh on one day now, so splitting it into two session, so we might re-brand as Double Sesh Fest? Maybe?
Given that you are lords of the Sesh Fest, do you have any advice to attendees on how to approach their chosen session at IMBC?
Marisa: Everyone has a different definition of what a 'session' is and how they approach it, so giving advice can be a little challenging. To us, a good session means something a little bit more than just drinking beer, it has a sense of community tied to it.
There was one comment I overheard at SeshFest that really stood out… "What makes a good session is the people around you." As tasty as beer can be, nothing competes being in good company when out on the sesh.
Duncan: Shandy or Radlers, in pints.
Speaking of sessions, low ABV pales are all the rage these days and we are enjoying riding that wave! Your recent Micromachine collaboration with Northern Monk was a smash hit. Have you found that drinkers are turning to flavourful low ABV beers in favour of their higher strength DIPA brethren?
Marisa: Yeah, I think drinkers are turning to low ABV, flavourful beers although I still love a 8.5% DDH NEIPA.
Duncan: Yep I can't drink any above 5% these days, gives me a 'hops flush'.
We know you guys are no strangers to Manchester – any tips for festival goers over IMBC weekend?
Marisa: Get to Idle Hands before or during the sesh for a coffee and get to Siop Shop for the most wonderful breakfast sandwich you will have ever eaten. Oh wait, and Siop Shop does vegan donuts?! It's a must. (Ed: backing this 100% and you might always find said duo at IMBC 18…)
Duncan: Oasis Café, Fab Café, This and That, Corn Exchange (bootleg tape basement) and the Arndale. (Ed: Follow This & That on Facebook and thank me later) 
Cheers! Any parting words?
Marisa: See you at Indyman 2018.
Duncan: Live well and work safe.
—
Follow Magic Rock everywhere on the internet and drink them dry at IMBC 18.
—
IMBC 18 / 4th-7th October 2018. Victoria Baths, Manchester
Tickets for Thursday 4th, Friday 5th day session, and Sunday 7th October are available HERE.