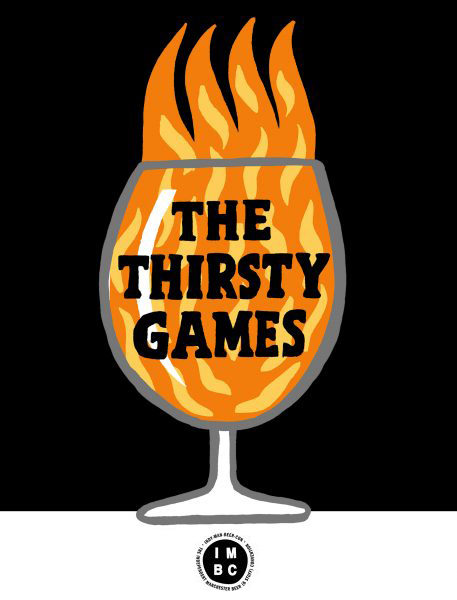 THE THIRSTY GAMES 2019
The Thirsty Games is IMBC's competition to find the best small and upcoming breweries operating in the UK today.
From nationwide submissions we will pick the best three entrants to make up the Thirsty Games contenders at IMBC 19 (3rd – 6th October 2019, Victoria Baths). Each chosen brewery will pour their beers at every session of IMBC 19. You, the beerholder, will then vote on your favourite brewery across the length of the festival alongside our guest panel and the brewery with the most favour will be crowned the winner of The Thirsty Games 2019.
This is the fourth year of The Thirsty Games. Previous Thirsty Games winners are Liquid Light (2018), Burning Soul (2017), and Fivecloud Brew Co (2016).
CRITERIA
The entrants should be 10bbl single brew length or under in size, or a brewery operating on a cuckoo basis in the UK.
The entrants should have been producing beer for less than 24 months.
The entrants should have their beer on general sale and be duty paid.
TO ENTER
We want to sample your A-game beers. Send us your most interesting and creative samples.
Send a minimum of two cans / bottles per beer entered. Please send no more than three different beers.
The beer you send should feature at least one beer that you would pour at IMBC 19.
IF THE ABOVE APPLIES THEN FILL IN THIS FORM HERE, PLEASE. SORRY TO SHOUT BUT HERE IS WHERE YOU FILL IN THE FORM. CLICK CLICK. 

DEADLINES
All samples must reach Port Street Beer House, 39-41 Port St, Manchester M1 2EQ by 12th August 2018.
The chosen three Thirsty Games finalists will be announced shortly afterwards.
WHAT YOU WIN
The victorious brewery of The Thirsty Games 2018 will win…
A featured brewery pitch at IMBC 20 pouring their beers at each and every session rubbing shoulders with some of the best breweries in the world.
Plus more prizes to be announced.