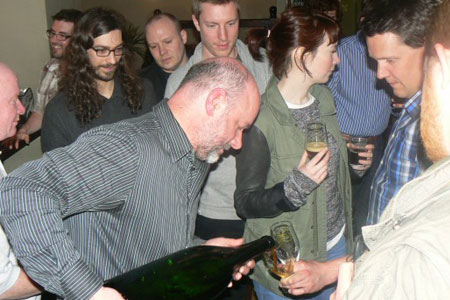 Hardknott Brewery
Dave Bailey, founder of Hardknott, started brewing for his pub, The Woolpack, in Cumbria in 2005. He is also a prolific blogger, about all things related to beer. Eventually, Dave and his partner Ann parted with the pub, and dedicated themselves to brewing. Hardknott have recently collaborated with John Keeling of Fuller's, to brew the 'English Experiment,' an IPA using only new British hops. Here's Dave, in his own words:
"I have been involved in the development of the craft beer scene for some years now. First as the publican of a cask beer brew pub, an increasing interest in beer diversity, developing throughout to my thoughts expressed as a blogger and finally in my current role as owner of a progressive craft brewery.
Beer festivals are a great way to get together beer enthusiasts, industry champions, publicans, beer writers and members of the public in an all inclusive environment. For breweries it can be an important showcase for their beers and help as an important link to shorten the complex route between brewer and drinker.
We feel that although there are many great beer festivals all over our Great British Isles, there is something lacking with respect to the increasingly important Craft Beer Sector. We are not only delighted to see that there are now festivals like the Independent Manchester Beer Convention, but also excited to have been given the chance to join in.
It's going to be a really great beery convention and the whole team at Hardknott are looking forward to being involved."
We're certain Dave and the Hardknott team will deliver something outstanding to IMBC!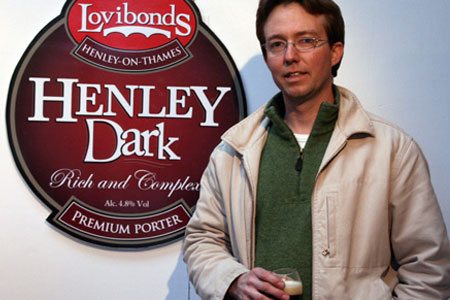 Lovibonds
Lovibonds chief zymurgist, Jeff Rosenmeier, originally from Wisconsin, moved to Henley-upon-Thames in 1996. Already a keen home brewer, in 2005, he decided to leave the IT world behind to open his own brewery. He named the brewery after Joseph Williams Lovibond, inventor of the tintometer, and his family of brewers, who started brewing in 1834. Eventually, the Lovibond brewery was based in Greenwich, and was damaged during World War II. In 1959, the family quit the brewing business altogether, but the Lovibonds shop in Henley was well remembered, so Jeff's brewery continues the long history of Lovibonds and brewing in Henley. The brewery runs a hugely popular shop which allows sampling and chatting to the brewers. In May 2012, Lovibonds' Sour Grapes won a gold medal at the World Beer Cup in San Diego in the Wood Aged Sour Beer Category.
So what was Jeff's reaction to IMBC? "For years I've been saying that Lovibonds should hold a beer festival, where the brewers are allowed to represent and pour their beer.  Apparently, I wasn't alone in thinking that UK beer festivals have always missed this trick. Thankfully the guys organising IMBC are on the same page and this is going to be a great meeting of the finest British craft brewers. I'm honoured to be invited and I can't wait."
Well, neither can we, we're chuffed to have Lovibonds at IMBC!