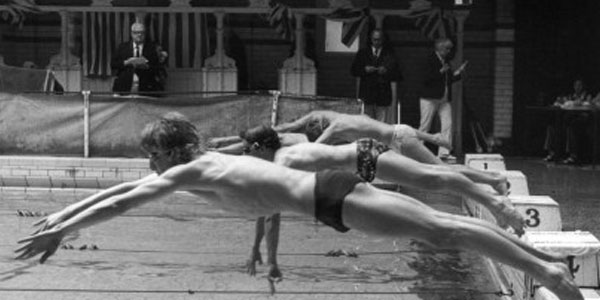 Designed and built by Manchester's first city architect, Henry Price (1867-1944), plans for the Victoria Baths were set in motion in 1897. Provision of baths as a public service had begun in the mid 1850s, and the first Turkish bath opened in London in 1862, with Bradford and Ashton-under-Lyne following suit in 1865 and 1870, respectively (Conservation Plan 2004, 14). Construction of Victoria Baths began in 1902 , the building cost £59,000, exceeding its original budget.
Manchester's water palace was opened to much public fanfare in 1906. It features two swimming pools for men, first class, and second class, one for women, as well as a Turkish bath and several private baths. Mixed swimming was introduced in 1922. Manchester's public baths were hugely popular, with over 2 million visitors recorded during 1928 (Conservation Plan 2004, 23). In 1952, the first public aerotone (jacuzzi) in the UK was installed at Victoria baths.
During the winter, the pool floors were covered to allow dancing. Particularly impressive are the building's stain glass windows and its overall renaissance style, combined in the red bricks and yellow terracotta, typical for Edwardian times. The terracotta was not only colourful, but could also be easily cleaned, critical in an industrial city like Manchester at the time. Some of the windows show sport scenes, but perhaps curiously, not swimming. The building was first listed Grade II* in January 1983.
In March 1993 Manchester Council closed the baths, but the 'Friends of the Baths' and the 'Victoria Baths Trust', which formed in the aftermath of the closure took up the campaign to save the building from neglect. Volunteers now run the shop and café, and they have raised more than £50,000 to restore some of the stain glass windows. In 2003, the BBC broadcast Restoration, a competition of buildings across the country in need of restoration grants. The Victoria Baths claimed victory, as voted by the public, and received £3 million, the largest boost to restoration efforts thus far. In 2004, the Trust commissioned a conservation plan.
Needless to say, IndyManBeerCon plans to contribute to the restoration fund, to keep this beautiful venue open to visitors, and host to many great events! Be sure to take a look at the photo blog, too.
Further reading: https://www.fotoimage.co.uk/vbaths/Conservation_Plan.pdf