The brainchild of homebrewer and former cheesemaker Evin O'Riordain, The Kernel opened in 2009 with its distinctive handstamped bottles. In 2011, the British Guild of Beer Writers chose Evin as their brewer of the year—and the demand just keeps growing. A shiny new brew kit arrived in March of this year and more railway arch space was acquired to help meet that demand. Inspired by the brewers of Cantillon of Belgium and Russian River of Guerneville, California, The Kernel's dark beers have drawn on the rich history of brewing in London to recreate some of the recipes of days gone by.
With the move to bigger premises, Kernel beers are becoming more available on draught in Manchester, which is good news for Kernel aficionados, but the brewery continues to sell bottles directly on Saturdays. Evin has also collaborated with the likes of Thornbridge, recreating a Burton Ale, and Redemption Brewing Company, a Strong Mild, as well as other illustrious breweries, including Dark Star. We are thrilled that The Kernel are going to be gracing the bar at IMBC, no matter what they decide to bring to Victoria Baths, it is going to be a treat!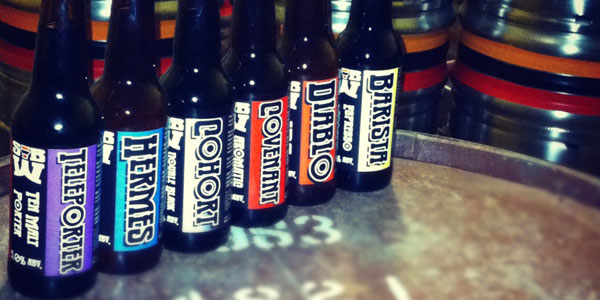 Summer Wine Brewery
Located in the picturesque village of Holmfirth, West Yorkshire, Summer Wine Brewery has been going from strength to strength since entering the brewing business in 2008. Head brewer James Farran and managing director Andy Baker are no strangers to experimentation, with this year's huge releases of Kopicat, the Imperial Vanilla Coffee Stout, barrel-aged in Caol Ila and Clynelish, as well as the Gorilla, a black IPA, brewed for international IPA day. What might they be bringing to IMBC, you ask?
"We at SWB are very excited to be involved with a new-breed of beer festival which becomes an interactive, all en-compassing event that celebrates not only the beer, but the ingredients, those that brew, those that serve and those that drink it.
We will be bringing along one of only 4 kegs of Calico Jack in the world: An Imperial Caribbean Stout brewed with root ginger, raw cocoa powder, nutmeg and hemp seeds but here is the twist, it will be infused with 100% Demerara 15–yr aged El Dorado Guyanese Rum."
No doubt, SWB are always good for surprising and exciting beers. Bring on IMBC!