Soon we shall be depositing the full beer list for IMBC 18 – both in written form and in actual physical BEER FORM at Victoria Baths. In the meantime, we asked IMBC 18 beer pickers James, Matt and Scott to pick THREE beers each that they're particularly looking forward to at this year's festival. Feast on…
The Veil x Cloudwater – Chubbles III The Promised Land
Chubbles is pretty much what this style aught to be, BIG and complex and hoppy as hell and juicy as nobodies business. So many NEIPAs are very one dimensional and are kinda getting boring but I expect great things from this as the previous iterations have been tip-top. 
The Kernel – Bramling Cross Wet Hop Table Beer

I love Bramling Cross and seeing a UK based green hop beer on the list is a great sign as they're still pretty rare in the UK and rly aught to be less rare, Kernel are an all time favourite of course and are kinda the go to brewery to find out where stuff is heading and what the best use of particular hops is. Always killer beers and always super chill/anti hype. Their tasting on Sunday shouldn't be missed!
Buxton – Keller Bier OR Jester King Snorkel

Whuut – Buxton have forged forwards recently with a raft of new beers alongside the established bangers and ice cream omni-pillow crowd pleasers, seeing a new kellerbier on the list kinda gets my attention bc I've had a fun time this year rediscovering lager and you know Buxton are gonna smash it right??? Soft murky keller bier yes pls. Oh and OK I'm breaking the rules but Snorkel was a stand out beer when we last had Jester King over (Ed: IMBC 2016) – smoked sea salt and oyster mushroom?? VERY IndyMan as some would say…
Pomona Island – Second Toughest In The Infants
Pomona Island have been making some of the best beer in Manchester (they're technically from Salford but shhh) this year. They've been a mainstay on the taps at Port Street since starting up and have simply been getting better and better. This is a light, simple Table Beer thats been heavily hopped with Simcoe, Mosaic and Chinook, it's the perfect way to start a session at IMBC. Probably the best named beer on this years list too.
Verdant – Don't Fear The Ferryman (Bourbon Barrel Aged)
I was lucky enough to try this straight from the barrel when we went down to brew Armbands (Ed: IMBC x Verdant 2018 collaboration) earlier this year. It's absolutely spot on! A big old imperial stout thats picked up loads of vanilla and tobacco notes from the barrel. Verdant are obviously more known for their hoppy beers but this is proof that they can turn their hands to anything.
Wylam – The Shape
Wylam head to Haddonfield. I had to pick this beer, it's named after one of the best film antagonists of all time. I'm hoping Wylam are planning on playing a load of John Carpenter soundtracks while it's pouring. Anyway, the beer, The Shape is a DDH IPA with Idaho 7, Centennial Cryo and Chinook BBC, pouring for the first time at IMBC alongside their new DIPA Freak Magnet. Both will be excellent, get one, queue up again while drinking it and go straight in for the other.
—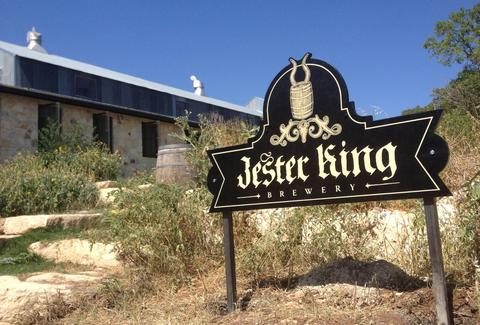 Scott Kenneth Jackson, IMBC
Jester King – Fēn Táo
When Jester King first came to Indy Man back in 2016, the whole team was struck, not just by how great their beers were, but also by how genuinely lovely these guys are! We're all super looking forward to having them back this year, and to drinking some more of their top-level sour beers. For me, though, it's all about this guy. Fēn Táo is a barrel-aged wild ale which has been refermented with three different varieties of Hill Country peaches, which were taken straight from the orchard, macerated by hand and added straight into the base beer (Das Überkind) in an effort to embrace as much of the terroir of the fruit as possible. I'm so excited about this beer that, when the doors open on Thursday, you'll find me at Jester King's bar, first in line, glass in hand, "One third of Fēn Táo, please."
Squawk – Barrel-Aged Series
Squawk are absolutely killing it at the minute. The cask champions of Manchester, everything they do, regardless of the container, is absolutely brilliant! One such beer is Corvus, which is not only the best stout I've had in a long time, but also a strong contender for one of my top 5 beers of 2018. With that accolade under their belt, and my expectations through the roof, I'm particularly keen to see what the brewery's recent foray into barrel-ageing has produced. At Indy Man, you'll find a Bourbon Barrel-Aged Chocolate Milk Stout and a Red Wine Belgian Dubbel, each dropping at different points during Squawk's four-day occupation of Room 3. Mark these beers on your app, turn on your push notifications and get ready to throw some shapes in the Party Room as you sink third after third of these (semi) reasonably percentaged BA bad boys.
Other Half – Double Sunset Imperial Stout
And speaking of "reasonably percentaged" it wouldn't be a list of SKJ recommendations without at least one stupidly strong, potentially festival-ending imp stout. On this list, that slot is occupied by Double Sunset, a mysterious (and completely un-Googleable) offering from New York dank masters, Other Half. Anyone who attended last year's Indy Man will remember the hype around these guys – people queuing around the block of their Brooklyn-based brewery, just for the chance to walk away with a tinny of double-dry-hopped, dank, juicy goodness. So why Double Sunset? Why not one of their already established and much-loved double or triple IPAs? Well, I'm not going to lie, the fact this this beer has zero Internet presence is part of it – at this point it's appearance on Untappd is rarer than than a Kanye follow-back. The main reason, though, is that I already know Other Half can do big, flavoursome IPAs. We all know that. They're great. Instead, let's see what these guys can do with this equally big, equally flavoursome style. Something amazing, I'll bet.
—
IMBC 18 
4th – 7th October 2018, Victoria Baths, Manchester
TICKETS for Thursday 4th and Sunday 7th sessions are available HERE.