Dear IMBC class of 2019,
After a few days to recover, we're now reflecting on what was our best Indy Man yet. We wanted to say a monumentally HUGE thank you for coming along and supporting independent craft beer in Manchester and across the globe. From your posts on social media to chatting to you in person, it's clear that what we do makes so many people happy. That is our single most important aim and makes all of our hard work totally worth it.
Beer, as ever, was the real hero and we would like to extend big thanks to the brewers thereof, our wonderful volunteers, Victoria Baths and the awesome team there, IMBC food vendors, festival supporters and sponsors, everyone who helped out in the production, and again – YOU! We'd just be an empty swimming pool full of beer without you. Which sounds cool but we'd be bankrupt in a day. And very drunk.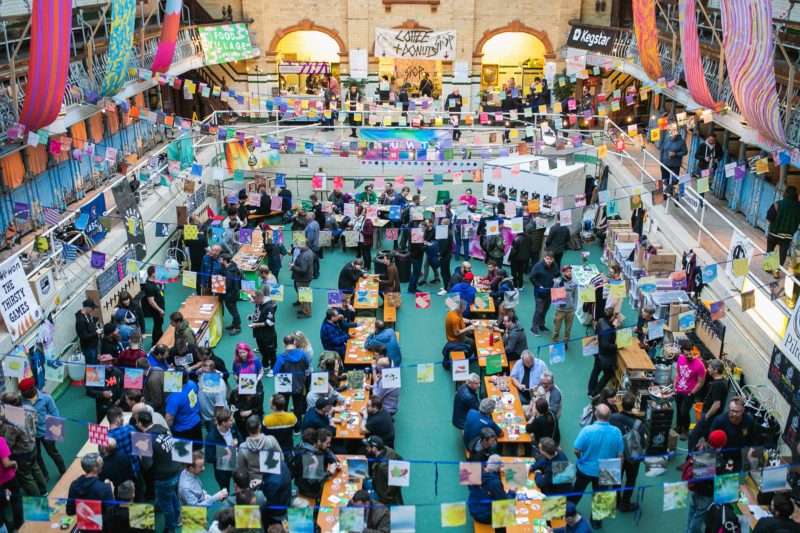 We diverged from a single token system this year and hope you all understand why. Craft beer is expensive and it is getting more so. We needed to reflect this in our pricing and also make sure that the token price was kept low for those who didn't want the super spenny stuff. The range of pricing was such that using 2018's system would have seen 2019's token price rise to over £3.30, but we actually managed to reduce the average cost to £2.63. Nevertheless, this wasn't a decision we took lightly and we thank you for your understanding.
We would like to extend our gratitude to IMBC '19 sponsors for helping to make this year so memorable. Each room guardian did an incredible job of making Victoria Baths their own: Beer Merchants, Burning Sky, Cloudwater, Deya, Fierce, Lervig, Siren, Verdant and Wylam. We're sure you'll agree that their spaces were a joy to visit.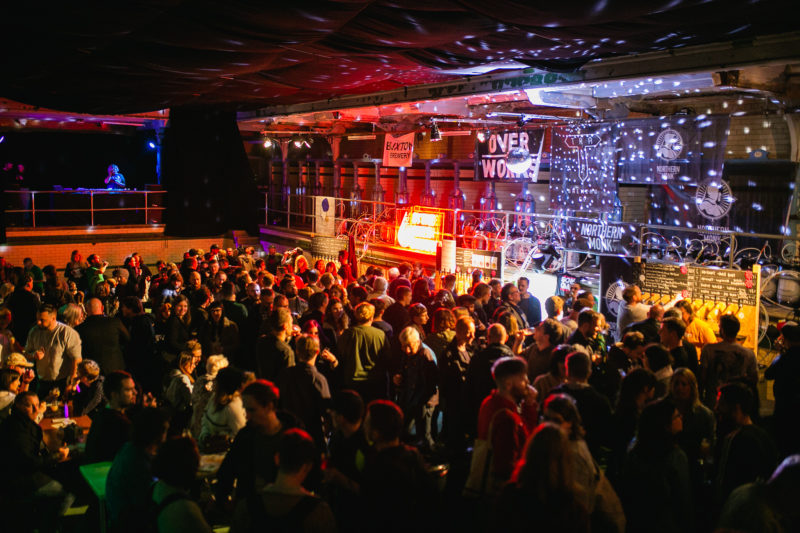 Let's also thank our IMBC '19 supporters. This year's glass was one of our finest yet and was brought to you with the help of Kegstar. Official keg supporters Kegstar also performed stainless steel keg heroics as usual, Simply Hops took wonderful care of the brewers in the lounge (tea, snacks, games and comfy spots galore) and The Brewer's Eye app kept beer lovers in the know. Telcom boosted the WiFi at Victoria Baths and enabled us all to 'gram faster, thank you! Awesome Merch made our swag dreams come true by printing all of this year's merch (please do use them for all your print needs) and TicketWeb made ticketing an absolute breeze. Last but not least, KeyKeg were a great help as Keg Management Supporter with the recycling of their kegs that you guys helped empty!
We must also thank our Thirsty Games supporters Lallemand, Simpson's Malt and Yakima Chief Hops. What an honour it was to crown Manchester-based ÖL Brewery our 2019 winners! If you voted on the app, good on ya. Make sure to pay a visit to ÖL at Hatch on Oxford Road. You can read more about all of our sponsors here.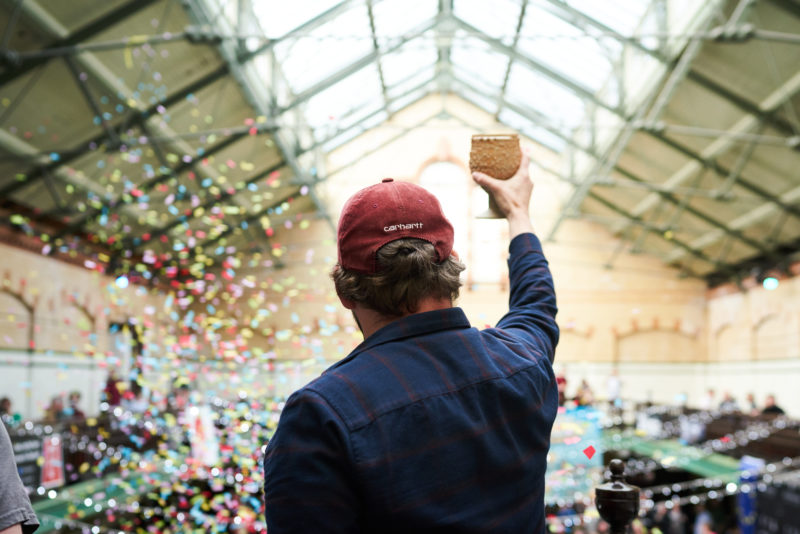 2019's Food Village was stacked with incredible vendors: Diamond Dogs, Dim Sum Su, Donner Summer, Firebird Hope, Great North Pie, Honest Crust, Neato Burrito, and Vaso Kitchen, thanks for lining our stomachs so deliciously, and thanks to Siop Shop and Holy Crab for bossing the Snack Shelf. Our ever-growing array of non-beer drinks came courtesy of the lovely folk from Kwas, Booch & Brew, Square Root Soda, Idle Hands and our Cocktail Bar. Thanks for helping us create a festival with something for everyone.
A special thanks goes to official IMBC '19 illustrator Kate Prior for creating the unforgettable fish artwork in its many guises (you snapped up the "Jaws" tee quicker than we could say 'gimbagagompa coffee vanilla granola breakfast stout', obvs), and Patrick Cavanagh for building the Indy Man app, a true feat of digital engi-beering.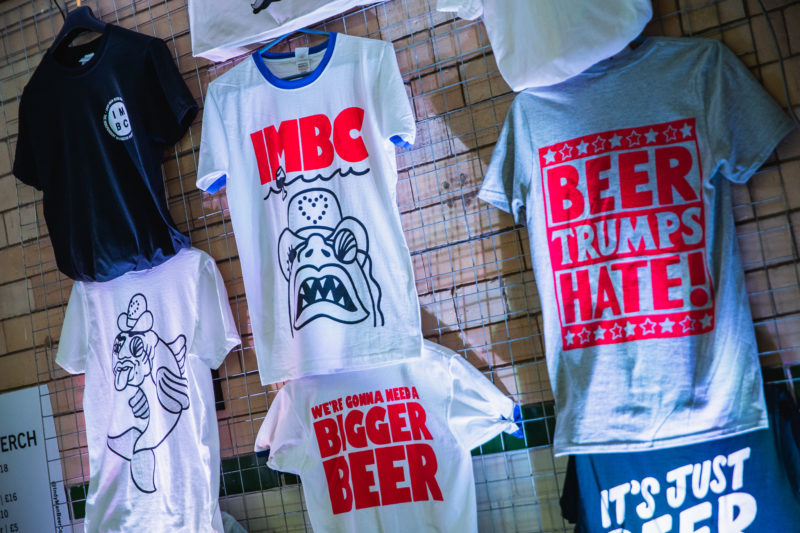 The dates for IMBC '20 are set; Thursday 1st October – Sunday 4th October. The venue remains the same; Victoria Baths, our one true love. More details about the ticket release date will follow in 2020 so keep an eye on our social mediums and sign up to our newsletter for further information.
Phew, thirsty for next year now. Until 2020 stay safe, keep experimenting with new beers and supporting the independent. The IMBC team are also responsible for year-round fun at Port Street Beer House, Common, The Beagle and The Pilcrow, plus your warm weather beer fix at Summer Beer Thing. Come and say hi!
We'd love to hear any feedback you have about this year's event. Drop us a line or complete this short survey. If you go the survey route we'll enter you into a competition to win two tickets for IMBC '20 and a £50 bar tab at Port Street Beer House. Wahey!
Thank YOU,
Team IMBC
P.S.
A very special thanks goes to our colleague Seb Mariner. If you've visited a sponsor's room or lucked out with a pop-up tasting, you did so because of Seb's tireless work to make IMBC bloody awesome. After years of dedicated service Seb is moving on, but he'll always be part of the IMBC Crew. Best of luck, mate x