Every once in a while it's inevitable that you'll have a thirst for a not beer. Am I speaking out of line? For those times we invited our chief not beer experts, Idle Hands & Square Root Soda, to the IMBC party. Coffee & soft drink connoisseurs rejoice!

IDLE HANDS
Pop-up Piccadilly approach pioneers, Idle Hands, have been putting a rocket up the coffee scene from their delightful station-bordering base since April 2015. The guys behind Idle Hands have endless enthusiasm for the bean and all it means. They're bringing their super powered nitro machine to make smooth as cold brew coffee to IMBC. Plenty of options for cold ones, and indeed hot ones, from some of the greatest coffee minds in Manchester. The perfect pick me up, entry beverage, or curtain closer for this year's festival.
Here's what Idle Hands are promising…
COFFEE: Hand-brewed single origin filters, Nude Coffee Roasters East Blend espresso based drinks, Cold Brew Coffee (Straight up & Nitro) plus more no doubt.
TEAS: a selection of Birdhouse Tea Company loose leaf teas, Sheffield's finest represented!
SNACKS: Idle Hands will be bringing along some of their homemade cakes with a
Blackjack Brewery
collaboration theme. Talking Chocolate and Porter Cake and Banana Beer Bread, along with some salted caramel brownies and blueberry white chocolate flapjacks. Set tongues to wag.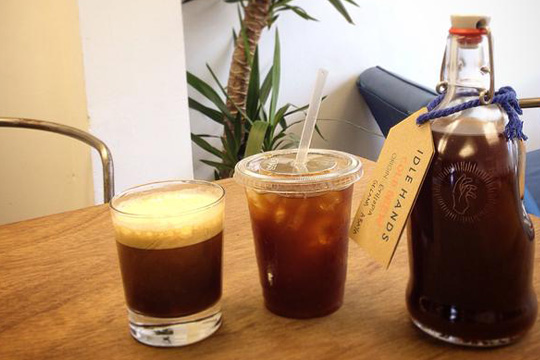 SQUARE ROOT SODAS
Award-winning craft sodas (Best Drinks Producer at the 2015 BBC Food & Farming Awards) from Hackney. Square Root make sparkling softs with seasonality at the core, you're unlikely to find a fresher Cucumber soda elsewhere. Other (plentiful) hits include Cola (natch), Rhubarb, Ginger Beer, Lemonade, Root Beer, a whole variety of tonics, Cascara Club, Elderflower, Raspberry Lemonade & many more. There will be bottles galore & maybe more. Your one stop festival shop for softies, certainly.